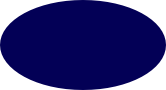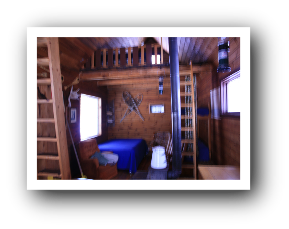 Bally Creek Lodging Check out our Summer & Winter Lodging Specials Below!!!
Thank you for your interest in our cabins. Our cabins are enjoyed by many people year around and we hope to have you as a guest as well so you can experience the rustic solitude that keeps our guests returning year after year.
Our cabins are not located on a lake, but rather deep in the forest. They are a close proximity to many variety of Lakes and are especially sought after for their quiet and solitude and the great trails you'll find right out the door, as well as a flock of chickadees waiting to eat out of your hand.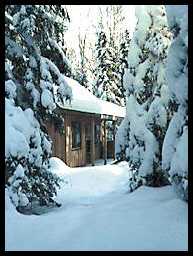 Our cabins at Bally Creek Camp are only six miles from downtown Grand Marais and are therefore very convenient to dining out and shopping. Also, there is a public indoor swimming pool with whirlpool and showers right in town. (YMCA) We have a wonderful sauna for you to enjoy at Bally Creek.
(Scroll down to view Photo Gallery of cabins)
The Trail System at Ballly Creek Camp is unsurpassed for intimate beauty! We have 25 kilometers of groomed ski trails for you to enjoy!
For
The Bally Creek Cabins are located at 411 Forest Service Rd. 158 (aka Bally Creek Rd.) just six miles northeast of downtown Grand Marais, MN. You will find a wonderful network of trails including 25 K of groomed trails for cross-country skiing which is part of the North Shore Mtns. Ski Trail System, and a spur trail to The Superior Hiking Trail, which can be used for snowshoeing in the winter. The Ski Trail lends itself to mountain biking in the summer as well as excellent hiking and hunting in season.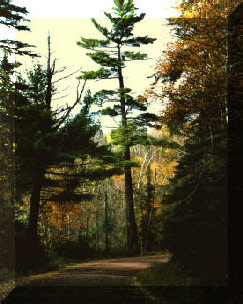 When staying at Bally Creek Camp, you must bring your own linens (most people bring sleeping bags to throw on the beds), towels, & cooking & eating utensils. We supply the wood for the woodstove, a one-burner butane cook stove, water in 5 gallon containers, lanterns & fuel. There is a teapot in the cabin and a wash basin. You may bring your pets (horses also), we just ask that you walk them under control so as not to bother other guests. Dogs are not allowed on the groomed ski trails, but you may walk them on the Superior Hiking Trail. All of our cabins are strictly non-smoking. We have a wonderful wood-fired sauna for you to enjoy and a variety of charming outhouses.
Bally Creek Camp Cabin Rates (based on 2 people-see addt'l. charge for extra people. Excluding Minne-Mecan & MooseLips Lodge, which have separate rates-( see below) Photo gallery below will list minimum and maximum cabin occupancy. Deposits are 50% in summer and 100% prepaid in Winter. The minimum stay is 2 nights and 3 nights holiday periods. A 30 day cancellation notice is required to refund deposits minus a $30.. office fee. This is firm, and if you must cancel, we will try to reschedule your stay.
Add 11.875% state & county sales & lodging taxes.
The pet fee is $10. per night per pet!
Midweek nights $90. dbl. occ.
add $10. each extra person
Midweek nights are Mon.-Thursday.
Midweek special-Stay 4 consecutive midweek nights and get 40% off the fourth night.
4th night!
Weekends $100. for 2 people
add $10. each extra person
Weekend nights are Fri., Sat., & Sunday! Mininum 2 night stay
Holiday Nights $110.. for 2 people
add $15. each extra person per night
Christmas Holidays are Dec. 21 to Jan. 3 Martin Luther King wknd. In January, and President's Week-end in February Minimum three night Holiday Stay!
A real log cabin, with spacious open floor-plan. Your hosts are The Harvey Family. Please note* Pets are not allowed in Minne-Mecan. The minimum occupancy charge will be for 4 people and the maximum is 8 people. Bed configuration is 1 queen, 1 queen futon, 2 doubles in the loft, and a set of single bunk beds. Propane Lanterns, firewood, Two-5 gal. water containers provided. This is really rustic luxury!
Midweek $185./night up to 6 people base rate ...Add $20. each additional person
Weekend nights $200. (up to 6) add $20. each additional person
Holidays $225./night (up to 6) add $20. each additional person Maximum occupancy is 8 persons
Biddles & Dunlookin, & Minne-Mecan have a 6-person minimum adult charge. Minimum stay is 2 nights & 3 nights during Holidays...Children age 10 & under $5. A 50% deposit must accompany midweek reservation, & 100% deposit for winter weekends & holidays. 30 day cancellation notice required to refund deposit (minus $25 office fee). Add 11.875% sales & lodging tax. Check-in is 2 pm & check-out is noon.
Bally Creek Summer Lodging Special includes one free 17' Lightweight aluminum canoe rental per cabin for the length of your stay…May 15 thru September 15
$85./night (dbl. occupancy.) midweek $95./ weekend nights from May 15 - Sept 15
10. each additional person $5. per child No charge for children age 2 and under. Add 4% lodging tax to 7.875% MN sales tax . Pet fee is $10. per night per pet!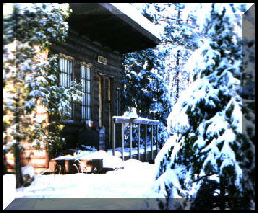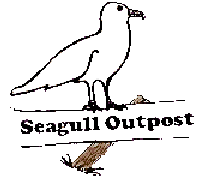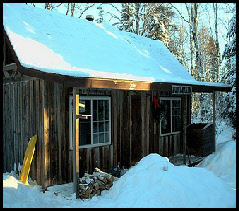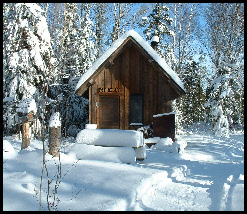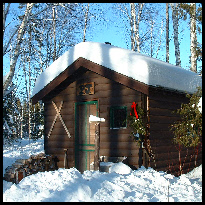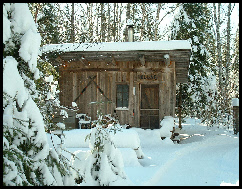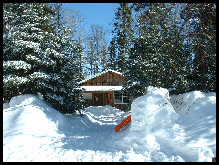 Please Note –Map to Bally Creek Cabins (not to scale)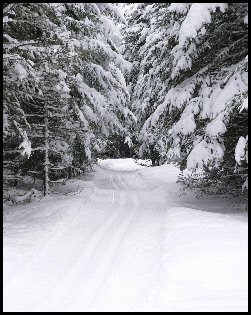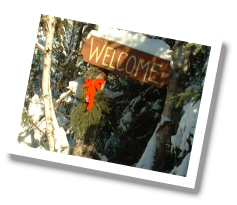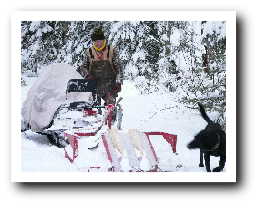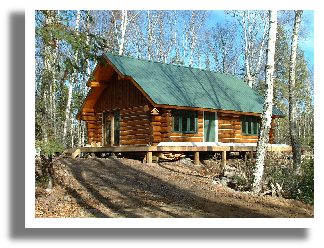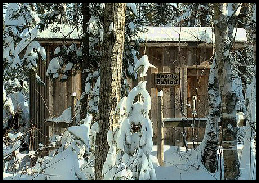 The Sauna "Barely Behind"
Our Seagull Outpost 54 miles up the Gunflint Trail was totally destroyed in the Ham Lake Forest Fire in May of 2007. All 46 acres of our property was burned. We have begun the process of reclaiming the land,. The trees are starting to grow back and will soon be over 6 ft. tall. We have decided to sell four 10 acre parcels., on land contract If you are interested , please give us a call…It's only one block to the public landing on Seagull Lake.
We have planted one million white pine seeds by helicopter, and hand-planted another 2500 red pine. The wild flowers have come in with a vengeance, and we are discovering the beauty in the large house-sized rock that remains. We still mourn the loss of the timber, but know that time heals all wounds. The blueberries were the first to return…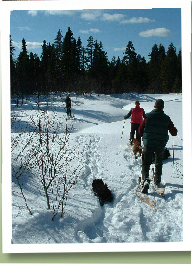 2014/15 Winter Equipment Rentals
SNS Boots, Fischer non-wax skiis & poles
Reservations are required as we don't have regular hours and we rent these from our farm at 85 Fall River Rd. One mile west of town at 85 Fall River Rd. Please call first to reserve! 1-800-795-8068
Deposits and Cancellation Policy
Bear Track Outfitting Co.'s Bally Creek Cabins in Grand Marais, MN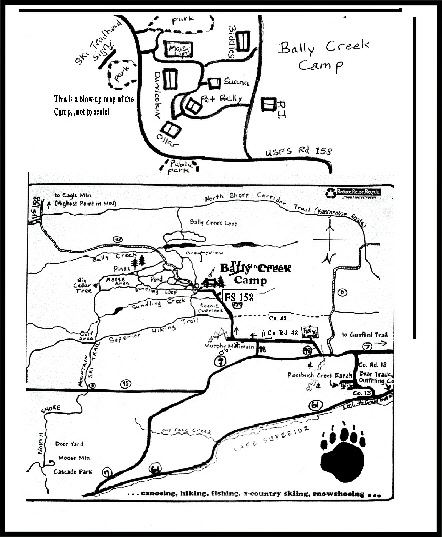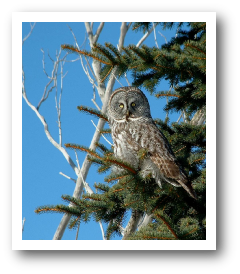 outfitters@bear-track.com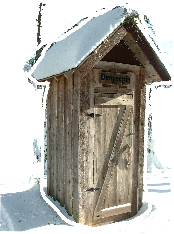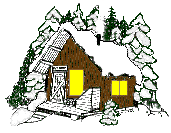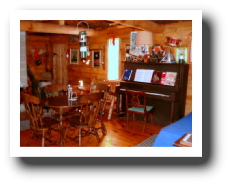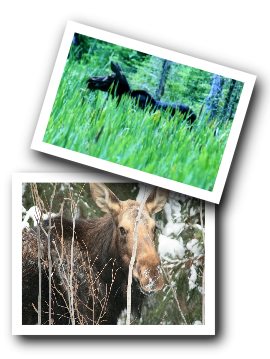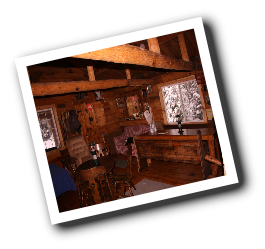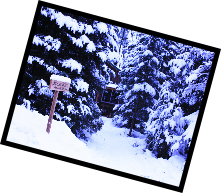 ...Cozy, rustic & remote cabins in the Superior National Forest, ... like nowhere else on earth!